http://www.andromedayachting.com/
MILOS DAILY CRUISES
Andromeda offers daily cruises in Milos Island from June 1st to September 30th. We visit places and beaches accessible only by boat and conduct sea cave tours using a 20-footer inflatable dinghy.
In addition, we have snorkeling equipment available for guests who wish to use it.
We depart from the seaport of Adamas, and sail all the way to Kleftiko, with intermediate stops at Kalogries and the cave of Sykia. You may take a look at the Andromeda location on the Adamas waterfront. During the trip, we serve traditional greek delicacies, fruit snacks, beverages and water.
On the return trip, we stop at Agios Dimitrios beach to enjoy a swim and a fruit snack. Here is a map of the Andromeda Daily Cruise Itinerary.
As an option, we may arrange scuba diving for qualified guests or even short trekking trips of environmental / historical interest.
THE SAILBOAT ANDROMEDA
The 60-footer, twin-propelled Andromeda features a flat, wooden deck with a comfortable seating arrangement. Having as a primary consideration the safe transportation and absolute satisfaction of our guests, we modify or even cancel the trip in case of inclement weather.
BOOKING
Guests are required to make a timely reservation (3 to 7 days in advance) with a small deposit, normally half the fare. It is imperative for the trip to be confirmed and paid in full the night before sailing. Approximate sailing and arrival times are 11:00AM and 19:00PM respectively.
Due to limited availability, please find our boat upon your arrival in Milos, at the Adamas waterfront, in order to get additional info and book directly through us. No agencies or extra fees. See you on board!
ACTIVITIES
---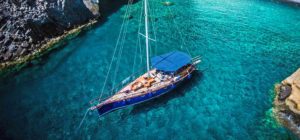 ---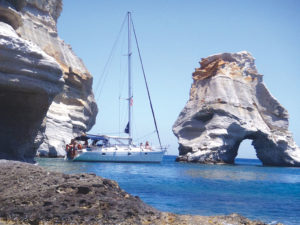 HOTELS
---
Vivere A Plakes  Plaka Milou
---
Moschoula studios    Adamas, Milos