https://ibiscusboutiquehotel.com/
Welcome to Mykonos Town.
Special offer / Events
---
https://ibiscusboutiquehotel.com/ Welcome to Mykonos Town. The hotel offers an exceptional experience during your stay in Mykonos. Fully renovated, with unique …
0 comments
Activities
---
Mykonos Yachting
Knowledge of our field paired with excellence in customer service is what distinguish Mykonos Yachting. We helpfully inform and suggest – but we never forget that we are here to serve you. We will be here for you both before your trip and throughout your cruise to make sure everything runs smoothly and seamlessly.
---
Kite Mykonos
With a great team of experienced IKO certified instructors, safety procedures and top quality equipment, we strive for the best possible learning experience.
With constant wind flat shallow waters and sandy beach Korfos bay is a paradise for both beginners & advanced riders.
The island of the winds enjoys some of the most sophisticated nightlife & extraordinary sandy beaches in the world & can satisfy even the most demanding travelers.
---
W-Diving
Diving on Mykonos Island means diving into the past and ancient history with each stroke of your fins. Amphorae and pots can be seen, traces of the ancient Greece and the Roman Empire. The Aegean Sea offers diverse underwater sceneries with canyons, rock walls and a incredible visibility of 30 – 40 meters.
But also diving here offers wreck diving: old and new ships have sunk in this area. The "Peloponnesos", in particular which sunk in 1926 onto one of the most beautifully colourful reefs with its plants and abundance of fish, is a rarity. Parts of the ship are found in the shallows and the well preserved tail in deeper waters. .....
---
Mykonos Diving Center
Mykonos Diving Center was established in 1978 in Psarou, Mykonos. Since 2007 the center has been operating from Paradise Beach. Our diving center continues to offer high quality services to thousands of divers throughout the world.
We offer diving excursions to certified divers, and training for all levels from beginners to experienced divers. You can get to know the enchantments of the sea safely and easily by doing your first dives with us......
---
Mykonos Horseland
At Horseland we provide our clients with a memorable riding experience on one of the most beautiful Islands in the Cyclades.  We offer the opportunity to discover and ride through unique and breath-taking scenery on the island of Mykonos, from Horseland in Ano Mera to Fokos Beach.  Riders are accompanied by a professional guide who helps make the experience relaxed and comfortable as you tour through the distinctive Cycladic landscape.
Each rider's specific needs are respected and taken into consideration.  For beginners and novices we provide instruction prior to leaving on horseback, and clients are equipped with all necessary safety equipment for a pleasurable ride.
We also offer extra special packages for those looking to combine our beautiful horses with a romantic or even more memorable experience.........
---
Sunfos Alessia Yachting
Sunfos Alessia Yachting is a Sailing Yacht company founded by Travel Agents who have been in the travel business for more than twenty years and who wanted to share their passion and love for sailing.
With headquarters in Athens and with a base in Mykonos Island, Greece, the Sunfos yachts are transferred every summer season to Mykonos from where all its programs start to sail the Cycladic Islands.
Sunfos is the very first company that introduced in the island since 2012 the Semi-Private Day Cruises by Sailing Yacht with the launch of the 'One Day Sailing Yacht Cruise to Rhenia Islet' program.
Thanks to its very satisfied clientele and increasing demand, more sailing yachts have been allocated to its portfolio enriching the variety of Semi-Private and Shared itineraries offered.......
---
Yummy Pedals
Engage with a fascinating mixture of experiences while exploring Mykonos island on a bike! Take the time to inhale the freedom offered by a cycling adventure and capture each moment with all your senses sharpened.
What a combination!
Sunkissed routes through the rural countryside of the island.
A glimpse over Mykonos' hidden gems and pristine beaches.
An insight into Mykonian religious, culinary and rural tradition.
The sun's dazzling light mirrored over the azure waters of the Aegean sea.
Stress-free, leisurely and fun family tours as well as awe-inspiring, scenic rides on steep slopes.
The best solution for cruise passengers with limited time but great desire to explore.
And, as an extra treat, a quaint vineyard following bio-dynamic cultivation and offering unparalleled relaxation moments.
---
GoDive Mykonos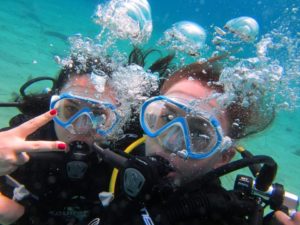 Delivering Fun & Memorable Experiences to all levels of divers & snorkelers
Providing Quality Diver, First Aid & Environmental Training
High Standards of Safety & Good Quality Equipment for customers
Reducing our Environmental Impact through improving our daily practices
Hotels
---
Hotel Nazos  Mykonos
Mykonos Hotel . Hotel Nazos is one of the last family-run Mykonos hotel accommodations in Mykonos Town.
Mykonos Hotel Nazos accommodation offers budget, standard or luxury accommodation rooms with sea and town view with a small bar breakfast area for your early breakfast or late drink before your night out in Mykonos town.
Mykonos Island is full of luxury hotels and most of them are called boutique hotels or resorts or small luxury hotels or even guest houses, apartments or just budget rooms and all of them have something special to offer all travelers that choose Mykonos for their holiday destination. We at Hotel Nazos respect more than anything else your vacation and we always try to be there for your needs. That's why we are trying hard to provide a truly relating stay and accommodations that offer good value for your money. The Nazos Hotel is a 3 minute walks from Mykonos town - down the hill just a perfect place to stay and spend your holidays on Mykonos!
---
Ibiscus Boutique  Mykonos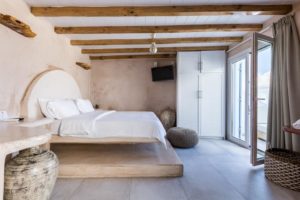 The hotel offers an exceptional experience during your stay in Mykonos. Fully renovated, with unique areas where you can enjoy the spectacular view of Mykonos Town. It includes some unique and romantic rooms which provide external Jacuzzi and overlooking the Aegean Sea. The hotel provides free Wi-Fi in all hotel areas and a large LCD flat-screen TV that provides cable channels in five major languages......
---
Mykonos Grand Hotel & Resort  Agios Ioannis
Get the celebrity treatment with world-class service at Mykonos Grand Hotel & Resort
Located right on Agios Ioannis Beach, Mykonos Grand Hotel & Resort provides 5-star, boutique accommodations set amidst cobble paths overlooking Delos Island. It includes a health center and features fine dining in stylish settings.
Rooms and suites at Mykonos Grand combine the cube-shaped Cycladic architecture with the soothing interior décor. They come with a satellite LCD TV, DVD player and iPod docking station. All units open out to balconies or patios with sea, garden or pool views......
---
Rocabella Mykonos Hotel   Agios Stefanos
Rocabella Mykonos Hotel is located within walking distance of the sandy Agios Stefanos beach. It features a pool, fine dining, stylish rooms and a spa.
The rooms of Rocabella feature free Internet access and a furnished sea-view balcony or terrace. They are fitted with a satellite LCD TV and a safe. Some rooms also include an outdoor plunge pool. A pillow menu is also available.
The state-of-the-art spa is equipped with a sauna and a gym. It also provides facial and beauty treatments, and massages.....
---
Aether Boutique Stay  Glastros
Enjoying a quiet location 801 m away from Mykonos Town, Ether Boutique Stay offers elegant accommodations decorated in minimal style. Freshly prepared breakfast based on local recipes is served every morning.
Rooms and suites at Ether Boutique feature stylish interiors in white tones with colorful details. They come with a flat-screen TV, mini fridge and electric kettle. In the private bathroom, you will find free toiletries, bathrobes and slippers for extra comfort.
---
Lyo Boutique Hotel Mykonos  Super Paradise Beach
Offering an outdoor pool and Aegean Sea views, Lyo Boutique Hotel Mykonos is set in the vibrant Super Paradise Beach in Mykonos. Premium tastes can be tasted at the on site restaurant, while the bar serves an abundance of refreshments.
The well-appointed suites and rooms at Lyo Boutique Hotel Mykonos are equipped with a satellite, flat-screen TV. Each opens to a balcony with sea or pool views. Some feature their own hot tub. The elegant bathrooms are stocked with a shower, while free toiletries are also offered. Air conditioning comes standard.
---
Mykonos Bay Resort & Villas  MEGALI AMMOS
Located on Megali Ammos beach, the design hotel Mykonos Bay Resort & Villas is just 300 m away from Mykonos town. It offers a pool with views of the sunset, the sea and the island' trademark windmills.
Each of the air-conditioned rooms is simply designed and equipped with satellite TV, hairdryer, fridge and balcony, while some of the rooms have balcony with sea view. Guests are greeted with a complimentary drink.
---
Anax Resort and Spa  Agios Ioannis
Boasting a seafront location in Agios Ioannis in Mykonos, Anax Resort ideally blends Cycladic architecture with modern amenities. Facilities include a superb spa center offering an abundance of beauty treatments, infinity pool, hot tub and a restaurant serving fine Mediterranean cuisine. A private beach area is also available.
Stylish and spacious, the bright units at Anax Resort and Spa open to a balcony and patio with magnificent views of the sea. Some feature their very own private pool. Each features an elegant bathroom stocked with a spa bath and shower, while free toiletries are also offered. A smart TV and Bluetooth access is available in every unit. Air conditioning comes standard.
---
Myconian Avaton - Design Hotels  Elia Beach
Offering 2 outdoor pools and a thalassotherapy wellness centre, Myconian Avaton - Design Hotels is located just a few steps away from the sandy Elia Beach. It offers luxurious, sea-view accommodation and fine dining, while free WiFi access is available throughout.
Accommodation at Myconian Avaton is decorated in respect to the Cycladic style with modern details. All units are air conditioned and equipped with a flat-screen, satellite TV, iPod docking station and minibar. In the luxurious bathrooms you will find free toiletries, bathrobes and slippers.
---
Kensho Boutique Hotel and Suites  Ornos
Combining luxury with traditional Cycladic touches, Kensho Boutique Hotel and Suites boast elegantly designed units with state-of-the-art amenities within a 1-minute walk of Ornos Beach. Some feature their own private pool, while others are equipped with a private hot tub. Free WiFi is available throughout.
Bright and airy, each air-conditioned room and suite features a bathroom with a spa bath, as well as free luxury Hermes bath amenities and is equipped with a hairdryer. Most of them open to a furnished terrace with magnificent sea, pool and mountain views. There is a seating area in every room, along with a flat-screen LED TV, a Nespresso machine and an iPad with unlimited access to music lists and the Kensho app which allows you to contact with all hotels departments instantly.