http://www.metropolishotel.gr/
The hotel draws its name from the mother city of culture and arts, which was, and remains to date the city of Ioannina. Efthymios Lytsikas, grandfather of the present owners, after spending 19 years of working life in the USA (St. Louis, Missouri), returned to Ioannina in 1931. The construction works commenced in mid-1931 and were completed in 1934. Hotel Metropolis opened its doors in August 1934 and immediately impressed its business & leisure customers as it was the first hotel of the extended region with running clean water and central heating, as stated in the Greek / French brochure of the time. The hotel, a spectator of history since 1934, has hosted prominent figures of the era, and had deservedly earned the reputation of the most prestigious hotel in the Balkans. In November 2012, after 78 years, the present owners of third generation Lytsikas family gave Hotel Metropolis again the modern, austere, discreet luxury and European looks that deserves.
The neoclassical building, having retained every detail of the exterior architecture, holds an unexpected surprise for the guest with its unique interior design as it was constructed entirely from scratch in the interest of discreet luxury of modern boutique hotels. The sixteen guestrooms of 1934 have given way to nine luxurious rooms, each one with its own unique and distinct design.
On the ground floor, guests have the opportunity to enjoy local delicacies and gourmet cuisine in the cozy café – bistro. The traditional Greek hospitality, the amenities, the unique approach to interior decor and ambience of Hotel Metropolis, aspire to satisfy even the most demanding guests. A unique and enjoyable journey starts in the lobby and continues through the guest rooms….
Special offer / Events
---

http://www.rafting-athletic-center.gr/ Unique experiences RAFTING ATHLETIC CENTER For unique activities in Zagorochoria The sports activities center Rafting athletic center is based in West …
0 comments
Activities
---
Rafting Athletic Center
The sports activities center Rafting athletic center is based in West Zagori Aristi housed in modern facilities within the hotel Taxiarches.
Our aim is that visitors in Zagori region and the wider area of Ioannina,get acquanted with the beauties of the place through a range of activities such as Rafting, Hot Dog, Kayak Monoraft, Hiking in Zagori, Mountain Bike, atv 4x4, Paintball, archery, mushroom Hunting, Paragliding..
---
Zagori Outdoor Activities
Zagori Outdoor Activities is an alternative tourism company that organizes sports activities in the Zagorohoria region. We organize one-day or multi-day trips to the countryside for each activity.
Each activity is classified in difficulty so as to be adapted to the needs and physical condition of the client. If in your priorities is experiencing the diversity and beauty of nature of Zagori, we are waiting for you !!!
---
Active Nature  Ioannina
ACTIVE-NATURE is one of the largest alternative form of tourism company (EXTREME SPORTS) in Greece,organizing outdoor sports activities safely and responsibly.We take our experience to design and execute monimeres or longer excursions to nature every day, scope of business, whichever you choose (rafting, Canyoning, Horse Riding, Kayak, , river trekking,parapente, hydrospeed, sea-kayak, cycling, Ski).
---
FLY & FUN   Ioannina
For those seeking adventure, paragliding is a safe, unforgettable activity. The Sense of freedom, magical images, relaxation, joy, putting a smile on your face, this is the quintessence of flying.
---
Papigo Rafting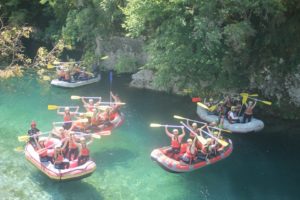 Two men from Papigo, but trapped in the urbanization of Athens were looking for a way to return to their ancestral land. In Papigo there was space but also the need for an alternative tourism company. And that's why we created the "Papigo Rafting».
The "Papigo Rafting» in essence are: Giannis Christodoulou (Rafting Guide IRF, Shift Water Technicians Rescue 3, Sociologist) and Giannis Kouratoras (Rafting Guide IRF, Shift Water Technicians Rescue 3, Electrical Engineering). Or else the Giannides! Join us to enjoy the majestic river Voidomatis and Vikos Gorge, and wonderful hiking trails that offers the mountain Timfi with surrounding peaks, alpine lakes and highlands. Our company specializes in certified high service to Whitewater Rafting, Mountain Trekking and Touring Ski. All our guides are certified guides of the International Rafting Federation (IRF) and the Greek Federation of Mountaineering and Climbing (EOOA). Also all of our guides are champions in kindness so do not hesitate to ask for anything!
---
Alpine zone Ioannina
* Daily materialize outdoor activities
* We sports - cultural events, working with municipalities and other stakeholders.
* Create affiliate programs, tailored to the requirements of each company.
With the experience of the members of the Alpine Zone offer a social project by HRT Annex Ioannina....
---
Via Natura  Arta
The 
Via Natura
plans, organizes and implements sports activities in nature, in carefully selected routes in the wider area of Tzoumerka 
if you are looking for the "highlight" in your life, escape Tzoumerka and try one of our exciting activities
Hotels
---
Pirrion Boutique Hotel  Ano Pedina, Zagori, Ioannina
Welcome to Pirrion Hotel****sweet hospitality! A high-standard hosting hotel, a fairy tale, written on the mountains of Zagori - Epirus. One of the most famous palaces in the area belonged to the Great King of Molossi. Here you can "travel" to a different dimension, one of warmth and tradition via Pirrion Hotel****sweet hospitality in Central Zagori.
---
Villa Rustica   Konitsa , Ioannina
Built among lush greenery in an area of 30,000 m2, Villa Rustica in Konitsa Village offers wooden-built suites with fireplace and views of the garden, the surrounding mountains and Aoos Gorge. Free WiFi access is available in public areas.
Opening to a terrace, each suite is warmly decorated and includes a seating area with a TV, and a dining area. All suites also have a fridge, and include a bathroom with a shower, hairdryer and free toiletries. Air conditioning comes standard.
At Villa Rustica you will find a blossomed garden, a terrace and a traditionally decorated bar. An array of activities can be enjoyed on site or in the surroundings, including horse riding, rafting, canoeing and hiking.
---
Primoula Country Hotel and Spa  Ano Pedina , Zagori , Epirus
Here, in the village of Ano Pedina, an ideal starting point for your first journey of initiation into the secrets of Zagori. We have restored, with great care, an abandoned mansion to our traditional hotel Primoula.  An A Class Boutique Hotel (4 star) with rooms, suites and villas. The beautiful traditional stone buildings follow the architectural identity of the area and are in perfect harmony with the surrounding nature.
Zagori, Vikos Gorge, Voidomatis and the surrounding area, is a unique place, naturally  protected by high mountains. Nature at its best... beautiful traditional stone villages, bridges, fountains, monasteries, virgin forests of beech and oak, rare plants and herbs.
---
Hotel Metropolis  Ioannina
Housed in a neo-classical building in the centre of Ioannina Town, Hotel Metropolis features elegant accommodation and a stylish bar-restaurant. The scenic Pamvotida Lake is only 300 m away. Free Wi-Fi is provided.
Individually decorated with wallpapers and hand-picked items, all rooms are fitted with Coco-mat beds and wooden floors. Each includes a flat-screen, satellite TV, minibar and air conditioning. Bathrobes, slippers and free Korres toiletries are available. Some rooms open to a balcony.....
---
Theasis Igloo  Ktistades Arta Tzoumerka
Welcome to our agriculture igloo houses, we have been open since December of 2008. Our property is situated in Sigena, Ktistades, Arta, were nature meets history and tradition. Thus our igloo houses are build with harmony and respect to the environment. We are situated at the foot of the mountain range Tzoumerka in a wild area that remains untouched by light pollution. This gives the opportunity to our visitors to use our 10 inch Sky Watcher and observe the stars, planets and celestial bodies in the sky. Our primary design was influence by the old round agricultural houses situated on the mountain range of Tzoumerka. An additional feature to our houses is the glass roof top, it allows you to see the sky at any time of the day.........