Special offer / Events
---
//www.xadventureclub.gr/ X Adventure Club is a tour Company that focuses on the beauty of nature, gastronomy and Local culture. We …
0 comments
Activities
---
XAdventureClub 
X Adventure Club is a tour Company that focuses on the beauty of nature, gastronomy and Local culture. We organize whole year round tours and outdoor activities in Corfu; We Specialises in Jeep Safari excursion but you can also choose among several other activities like Hiking, Cycling, SUP, Rib Safari, Luxury Yachting and daytrips during the summer season....
---
Corfu Sailing Centre
Corfu Sailing Centre formerly named Greek Sailing Holidays has been formed in response to demand from the novice, individual, and families. People who would like to sail, but have neither the time nor location to try, or perhaps the weather has not been suitable in their home country.
Corfu Sailing Centre offer Dinghy sailing and Windsurfing hire and tuition at Avlaki Beach near the popular resort of Kassiopi in the North East area of Corfu.
It was established in 1995, by Jan previously a dedicated dinghy sailor who has been operating the business since then along with fully qualified UK Royal Yachting Association (RYA) Instructors.
---
Achilleon Diving Center
Scuba diving in Corfu island, Paleokastrtitsa or Messonghi with Achilleon diving center. Dive in Corfu, at this magnificent, island of Greece that combines sunshine beauties and luxurious places together. Achilleon diving center is divided into two branches:
– Achilleon Dive Center in Paleokastritsa in the north-west part of the island
– Achilleon Diving Center & Korfu Diving in 
Paleokastritsa
– Achilleon Diving Center in 
Messonghi
 in the south of Corfu
– Achilleon Diving Office in Ermones on the west site of Corfu
Opened since 2001, our diving center is an ideal place to restore your peace of mind and focus on diving. Certified divers can choose from amongst 26 excellent dive sites. Beginners can try the Discover Scuba Diving and experience breathing underwater and for those who want to learn scuba diving they can join us on a PADI COURSE. We do not forget those who want to stay on the surface so snorkeling tours start everyday.
---
No Stress Yachting
We are a friendly yacht charter company based in Gouvia Marina, Corfu, specialists in providing the personal touch to our guest's holiday. From the personalised itinerary to the recovery service we try to keep your holiday Stress Free! Our Skippers are experienced RYA Training Instructors with years of local knowledge, meaning that we can recommend the best route depending on what you want from your trip. Our charter yachts are kept to the highest standards, with optional onboard Wi-Fi and new dinghies and outboards we try to deliver the best service possible. We love sailing and understand how it is the little things that count when it comes to making the most of your time on the water. Don't hesitate to contact us with any queries or special requests for you perfect No Stress sailing holiday!
---
ABCorfu Sailing
Book Private Charters with:
An unforgettable experience of VIP quality with reasonable price for up to 6 persons for sailing yacht and up to 4 persons for motor yacht.

A husband & wife team, Christos & Theda Bonetis, as skipper & onboard hostess.

50 combined years of tourism, hospitality & restaurant experience in Corfu & abroad.

A native Corfiot skipper who has extensive knowledge of surrounding waters.
Local Product
---
Theotoky Estate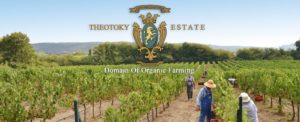 The Theotoky family are an old landowning family in Corfu Island, Greece, several members of which have been prominent politicians. They originally hailed from Constantinople, whence they fled following its fall to the Ottomans, eventually settling in Corfu. The painter El Greco (Domenico Theotokopoulos) was descended from a branch of the same family that fled to Crete. The Corfiot branch was ennobled with the title of Count by the Republic of Venice and was entered in the Libro d'Oro, but their titles lapsed in Greece when the Ionian islands became part of the Kingdom of Greece, which did not recognise noble titles. The various branches are: The Calocardári, the Sclebúni, the Statháchi, the Sammárco, the Andrucélli, and the D'Aviázzo. The latter developed a tradition of public service and were further nicknamed the Politikoí (Politicians)....