Special offer / Events
---
https://olympostrek.gr/ The great outdoor experience in Greece ! For old and young, experienced and beginners. "OLYMPOS TREK", an Outdoor …
0 comments
Activities
---
Aegean Yachting  Volos
1. Boat Charter. Our boats can accommodate from 2 to 8 people. They have 3 or 4 double cabins according to their type, salon, 1 or 2 wc and fully equipped kitchen. For more information about the yachts, see Our Yachts
2. Skipper Fee. Our skippers are permanent associates of the company. They know the area best and their goal is to offer unforgettable sailing vacation.
3. Fuel. Both the fuel of the main engine of the yacht and the outboard of the dinghy are included in the package.
4. Port fees
5.Bed linen
6.Transfer (upon request) with a 9-seat mini-bus to and from Athens and Thessaloniki Airports to Platanias harbor, which is located just 3 NM from the island of Skiathos.(Koukounaries Beach)
Departures: every Friday and Saturday based on availability
---
Tavropos  Lake Plastiras
In Lake Plastiras in 1995 theTavropos Functions et compass with the convenience of visitors, giving them the opportunity to engage in various activities such as bike ,water bike , archery , canoeing , SUP and hiking
Also in the information center of Tavropos, you will find a travel guide of Lake Plastiras and the wider region in printed or electronic form for Smartphones, Tablets, Gps and information on accommodation, food and entertainment
---
Eclipse Sailing Greece  Magnesia
A Mediterranean sailing holiday brings you all the beauty and diversity of the Greek islands. Discover the Aegean, Evia and the Sporades with easy island hopping – whitewashed houses against a sparkling sea; picturesque fishing villages, deserted coves.
We offer a unique experience on a classic sailing yacht, cruising the Greek islands at a leisurely pace aboard a wooden sail boat. Our extensive programme includes: small group sailing cruise holidays visiting the islands of this special part of Greece; tailor-made cruises for that special event, anniversary or honeymoon, and short boat trips around the Pelion.
Imagine days sailing in the Greek sunshine; cruising between islands; swimming in the crystal water of the Mediterranean while your ship rests at anchor. Our classic sailing yacht is available for private crewed charter; individual sailing holidays or short sailing trips.......
---
Bike or hike Pelion
Bike Or Hike is a family business dedicated to sharing a passion for outdoor activities (including cycling, MTB mountain biking, trekking and hiking) on Pelion with visitors from around the world who have a similar sensitivity for the lovely part of Greece in which we live and work.
With our base in the picturesque village of Portaria on Pelion (known in Greek as "Pilio") we specialize in organising mountain bike tours and in renting mountain bikes together with the necessary equipment. We have a love of the outdoors and an intimate knowledge of the area, and our primary objective is to enable like-minded visitors discover the delights of this wonderful part of Greece. Ecotourism is not just an idea for us, it's a way of life......
---
Olympos Trek Larissa
Living a Life of Adventure
The great outdoor experience in Greece ! For old and young, experienced and beginners.
``OLYMPOS TREK``, an Outdoor Activity Provider, based in Larissa (Eastern Thessaly), specialized in outdoor activities and multi activity holidays, has been offering its professional services since 1995.
A pioneer in this field in Eastern Thessaly, ``OLYMPOS TREK``, has literally created and developed, all those outdoor activities like canyoning, rafting, river canoeing, sea kayaking, adventure course activities (climbing, abseiling, fly foxing, high ropes) e.t.c. on a professional and organised basis.....
Hotels
---
Amanita  Tsagarada , Pelion
The harmonious composition of the lushly green mountain and the blue sea of the Aegean, soft bed sheets, birdsongs, the aroma of baking bread, gurgling waters, the table-served breakfast of local specialties ''farm to table'', the scent of flowers, the gathering of nuts and herbs, authentic homey hospitality, the sweetest fresh fruit, exploring emerald beaches, buildings made of locally available stone and wood, cobblestone paths, the plentiful harvest of mushrooms, walks through the forest, workshops on mushroom collecting, Kitchen lessons. This is the Mt. Pelion Experience offered by the AMANITA Guesthouse.
---
Montanema Handmade Village  Limni Plastira , Karditsa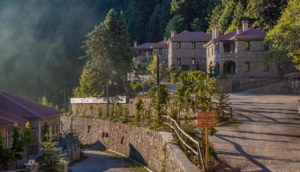 Set amid a lush forest, Montanema Handmade Village offers an outdoor pool and a restaurant. It consists of studios, apartments and villas in traditional style, facing Pindos Mountain Range. The Plastira Lake lies at a distance of 2.5 mi.
All stone-built units come with beamed ceilings and a fireplace. Each has a well-equipped kitchenette, flat-screen TV and terrace. Bathrobes, slippers and herbal toiletries are available in the carefully decorated bathroom.
Local delicacies and a variety of Greek wines are served at the on-site restaurant. Stone-made stoves for traditional cooking can be found on site, while special diet menus can be prepared on request.....