Special offer
---
Posts not found
Activities
---
Wet Spot watersports  Alexandroúpolis, Evros
"Wet Spot watersports" is just a few kilometers outside of Alexandroupolis, in a beach of Makri,
named: "Kyani Akti", in an environment that complies with all the safety rules..
Using full equipment, in combination with long experience and specialization,
it will help you learning windsurf, waterski, wakeboard and Kneeboard. Furthermore
, you can try your skills on other "inflatable toys" that are available.
Local Product
---
Domaine Kikones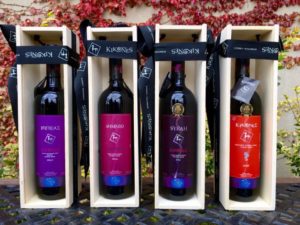 The winemaking philosophy is the combination of the most appropriate techniques adjusted to the special characteristics of the grapes produced in Maronia, Thrace. The know-how about the vineyard management is adopted from Australia; the hygiene and technology from Bordeaux and the vinification from Burgundy. The harmonious combination of these methods paired with the best terroir possible, create the unique characteristics of the Thracian winemaking.
            All Domaine Kikones Wines follow the rule:
                                                  «One Bottling per Year per Label»  
           so that the wine taster is sure that he enjoys exactly the same wine that was awarded or tasted before.
---
Evritika Kellaria
Just a few dozen meters from the North-Eastern borders of Greece with Turkey and Bulgaria, Evritika Kellaria (meaning Cellars of Evros) are situated on a hill surrounded by acres of vineyards.
Here, we vinify, produce and bottle our famous wines "Onar", "Orfeas" and "Enigma" from carefully selected grapes with passion for quality and taste, our unique traditional retsina "Evritika Kellaria" with its rich taste and our traditional ouzo & tsipouro, made from our 40 year old well hidden recipe.
Our modern facilities were built in 2004 based on all National & European regulation (such as ISO). In 2009, we expanded our facility with more tanks and machinery paving the way for tomorrow and abroad sales.
Our goal has been and will remain for the pleasure to be "yours" and the satisfaction "ours".